Activities
Identification and early intervention of mentally challenged children.
Advocacy & counseling to parents and community.
Vocational training and education for mentally challenged children with other extra- curricular activities.
Acupressure, Yoga Classes, Horticulture, Dance and Music, Art and Craft Training given to make them self reliant and to give them status of living.
Navjyoti Manovikas Kendra along with its sister organization, Jai Bharat Sarve Kalyan Nyas is running a foundation course in special education in collaboration with Madhya Pradesh Bhoj (open) University and Rehabilitation council of India.
Sports : School realizes the importance of sports and physical activities among children. It provides the necessary equipment to facilitate indoor and outdoor sports. The students of the school have participated at the State and National levels and won many prizes. In the Interstate Competition of Sports and Games for Mentally Retarded Children held at Chennai, one of our students stood first in cycle race and his name was recommended to participate at International level in Ireland.
Residential Facility : The Kendra has a comprehensive well oriented round the year residential facility for such boys & girls where academic and vocational facilities are provided.
Some Activities at Our Work Centre :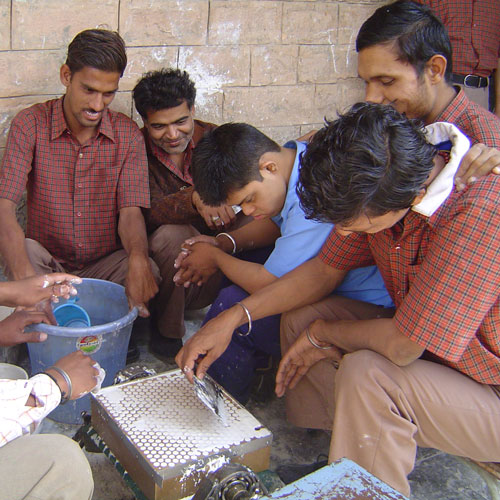 Chalk Making
All older children male who joined the school in their later age form this group. They are engaged in making white and colored chalks under the supervision of vocational instructor. The final product is then supplied to various educational institutions as per their demand.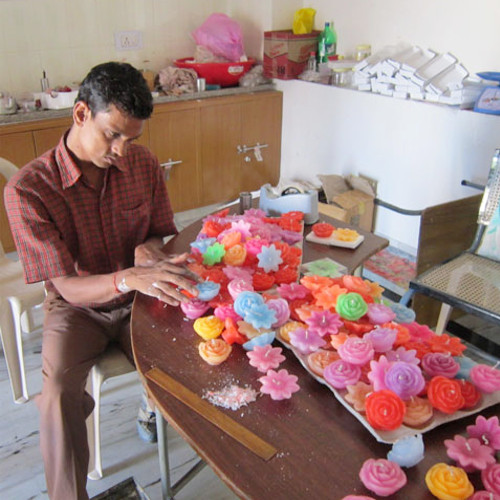 Candle Making
Educable group of boys and girls from this group. They make simple & designer candles, floating candles, jell candles with fragrance these candles are sold by our children with the assistance of vocational instructors fairs, school function's, exhibitions organized by various clubs, business houses and government agencies.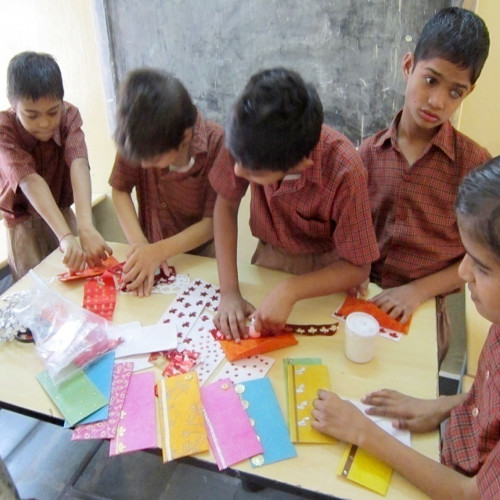 Craft and Decorative Items
Under this vocation children learn to make decorative items like greeting cards, bandanwars, and decorative envelopes.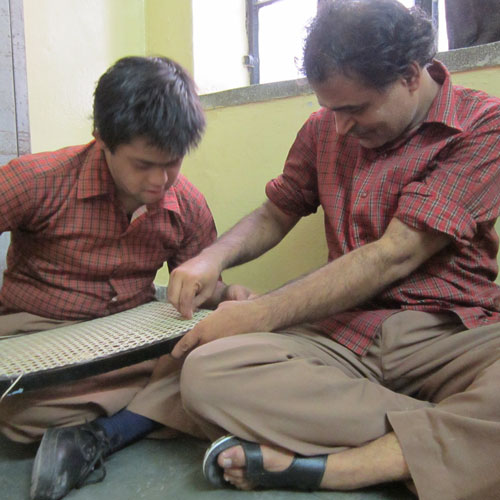 Canning & Furniture
Some of our children receive training for doing canning work. We receive regular orders for repairing of chairs & furniture's.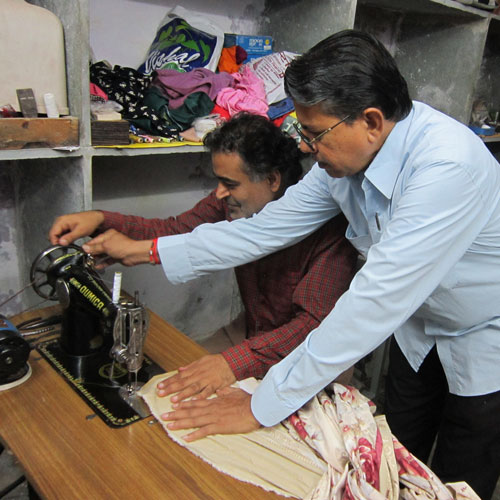 Tailoring
Girls of educable group received training in tailoring (simple straight line machining), they also learn needle work & plain stitch, hemming, button fixing, hook & eye making etc.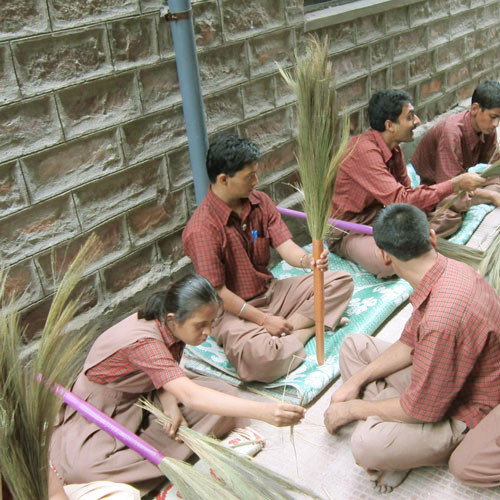 Broom Making
We have started a new vocation of broom making from this session, under the supervision of the Instructor who is trained skilled worker. Our children are able to make 40-50 broom in a day these brooms are sold to the shop keepers, schools and individuals.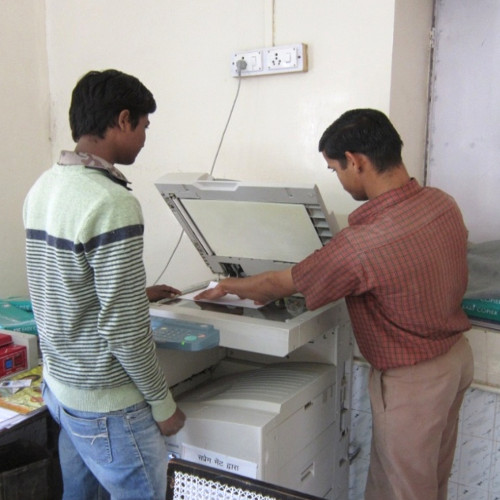 Photocopy & Laminations
Our new vocation of photocopy, lamination & spiral binding is working out well among our children. Our four to five children are under the training for learning this vocation.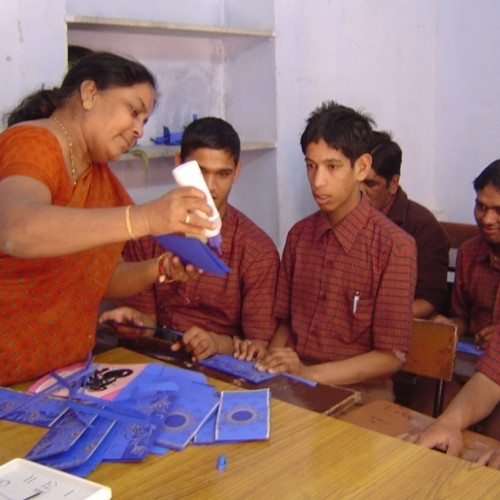 Art & Craft
Children under this vocation learn to make flowers, garlands, rakhees, bandanwars, curtain hangings, artificial jwellery, friendship bands, photo frames, Kankan doras & pencil boxes.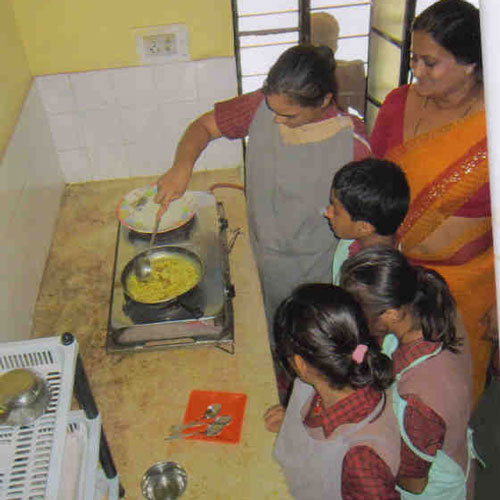 Kitchen Activities
Educable group of girls who are self reliant, undergo this training program. In kitchen activities, girls get training for making beverages like tea, lemon squash, Roohafza, simple breakfast like poha, sandwich, upama, uttapam, maggi etc, They also get training for sorting, cleaning & cutting of vegetables, preparation of chappaties & Parathas. Non educable group of girls get training for doing domestic work like cleaning, dusting, arranging of utensils & replacing utensils on the stand & keeping of kitchen accessories in proper place.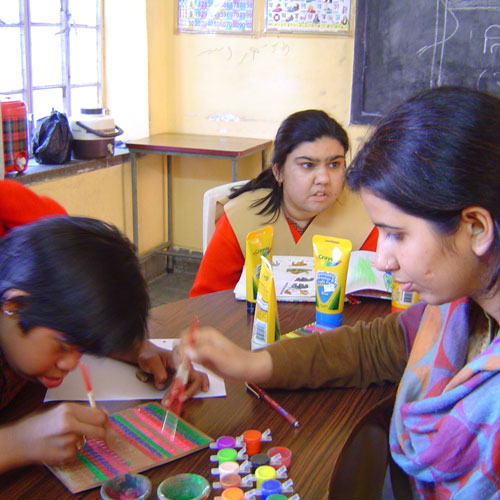 Handicrafts & Painting Work
Under this vocation children learn to make carry bags, greeting cards, decorative envelopes etc.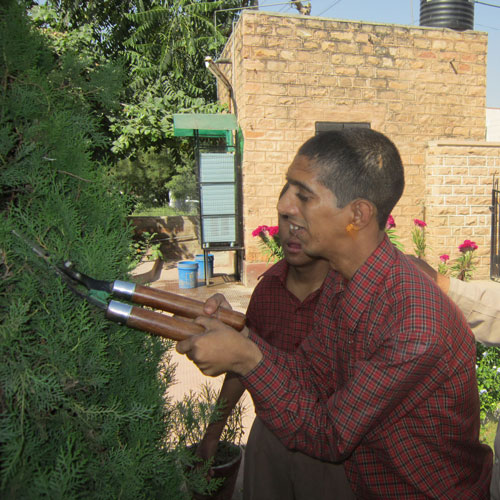 Garden & Gardening
School children are also engaged in kitchen gardening, seasonal vegetables like spinach, brinjol, green chilies, lady finger, corn, cauliflower, beans, carrots, Biller gourd etc. are grown & consumed in the hostel kitchen. Other than vegetables, lemon, papaya, sitaphal etc. are also grown in the kitchen garden.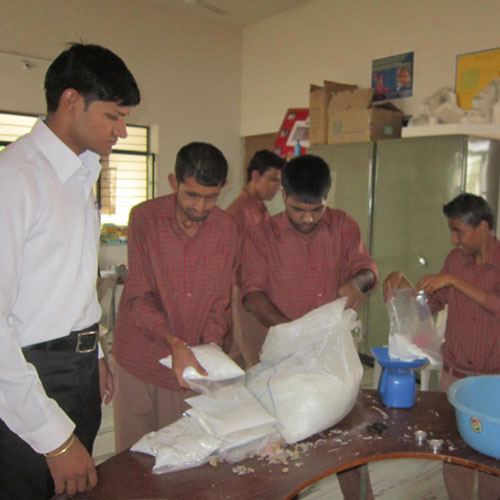 Detergent Powder Making
We have also started a new vocational venture of making detergent powder. Our vocational Instructor is training our children in this vocation. The quality of our detergent is very good which we supply at a nominal price, hence there is great demand for this product.